When my engine transplant was nearly finished, I was talking to Si at Hangar 53 about the exhaust. To be honest, I trust him there and don't ask too many questions – he'll have everything under control.
Anyway, he was telling me that the old exhaust system was now in the bin. The bigger 200tdi engine required a bigger exhaust. Simple as that, really.
"Am I getting a side-exit like yours?" I asked.
"Do you want a side-exit exhaust?" came the reply.
"If it causes you more work and is a pain in the arse, then yes!".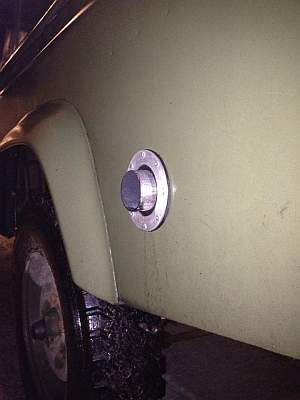 I'd never thought about it before, but all of a sudden the thought of having my mark stamped on Murpha appealed. I reckon this is going to be the start of a few such marks, as my head is now awash with 'pimping' ideas!
The first time I saw the exhaust was when I picked the Land Rover up to take her for her MOT. I almost squealed with delight, it looked that cool!
Murpha went through her MOT with flying colours (PHEW!) and as I paid, the guy taking my money said to me, "That's a really nice Landy. I love the exhaust. Did you do it?".
A lesser man would have lied, but I had to be honest and tell them that it was a Hangar 53 creation.
I'll take the credit for asking for it, though!
Si's got a really nice set of bush-wires on his Land Rover, too. They make opening the bonnet a pain and serve no real purpose in the UK 99% of the time. I want those next!

 [phpbay keywords="200tdi exhaust" num="60″ siteid="15″ category="14239″ sortorder="EndTimeSoonest" templatename="columns" columns="3″ itemsperpage="6″ paging="true"]