I'm hardly going to win 'Land Rover Modifier Of The Year', but this is the first thing that I added to Murpha – a pair of galvanised headlight protectors.
Although these do serve a purpose, I'll be honest and say that I got them because:
they make my Land Rover look a bit more hardcore, and
there was a good chance that even I could fit them!
Fitting was a case of drilling four small holes for each one and then using self-tapping screws to secure them. I used stainless screws because I like the fact that they don't rust away. As I do work on my Land Rover, I'll probably swap most stuff for stainless. It costs a few pence more, but looks nicer and saves time when you have to undo it.
Talking of undoing them, I can't wait for my first bulb to blow. I believe that you can buy hinged headlamp guards, but mine will have to come off if I want to change the sidelight or indicator bulbs. Told you they were hardcore!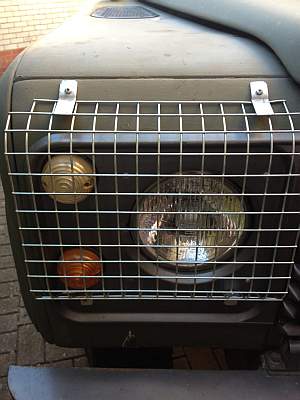 Cost? Bloody hell, it was eighteen months ago now, but I think they were about £15 a set. They came from eBay, my second home!

[phpbay keywords="defender headlamp guard" num="60″ siteid="15″ category="14239″ sortorder="EndTimeSoonest" maxprice="50″ templatename="columns" columns="3″ itemsperpage="6″ paging="true"]